Product Page Home Page
(800) 827-7880
General Information
Shelves can be purchased in a variety of sizes and capacities. Standard shelves are manufactured in 24, 30, 36, 42, 44, and 48 inch widths and 9, 12, 15, 16, 18, 21, 24, 30, 32, 33, and 36 inch depths. A special powder coat process is used for lasting durability. The standard finish color is gray; however, several other colors are available.








Gray Sand Blue Tan Putty Red Black
Post Types
An offset angle or box post is available.



Offset Angle Box Post
Both posts are manufactured for use with shelving compression clips. The box post is designed for unobstructed shelf access.


Compression
Clip
Clip-type shelving is popular in applications where frequent rearrangement is required.
Angle posts are also available.


Angle Post
Shelves are secured to angle posts with nuts and bolts. This is a popular choice when frequent rearrangement is not a priority.
Bracing
All upright posts must be braces. This is typically accomplished in one of two ways. Either individual sway bracing is used - frequently referred to as "open shelving", or solid side and back panels are used - frequently referred to as "closed shelving."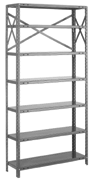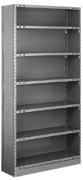 Open Shelving Closed Shelving
Capacities
Evenly distributed, non-impact loads:





Non-reinforced One reinforcing "rebar" Two reinforcing "rebars" Box shelf